Christmas in Montreal
Montreal is a beautiful city to visit at any time of the year, but nothing compares to spending Christmas holidays in Montreal. Montreal turns into a magical city during the Christmas and New-Years Holidays. Various events take place throughout the city and the streets, stores and other venues of Montreal take on the colors of the holiday season. Almost every building in Montreal's downtown core is decorated and illuminated during the holiday season.
Christmas Activities in Montreal
There is so much to do in Montreal during the holiday and Christmas season. You can do some outdoor skating at the Old Port or on Mount-Royal Park. You can experience the seasonal show at the Montreal Planetarium while the Montreal Botanical Garden offers a Christmas-themed exhibition that features many musical events for the season. The Old Montreal area offers various events and illuminations for the holiday season known as Les Féeries. This festival includes outdoor movies, illuminations, Christmas tree decorations, carol singers, fireworks and other festive outdoor activities.
The Nutcracker by Les Grands Ballets Canadiens
One of Montreal's most popular seasonal events is a performance of The Nutcracker by Les Grands Ballets Canadiens. This annual performance has been taking place at La Place des Arts for over 40 years. A season favorite, Tchaikovsky's music tells the story of Clara and her nutcracker complete with gorgeous winter scenes. You won't want to miss the enchantment, amazement and delight awaiting you in the Land of Snow and the Kingdom of Sweets.
Shopping in Montreal during the Christmas Holidays
Shopping is another enjoyable aspect of Christmas in Montreal. Even if the weather outside is quite cold, many Montrealers manage to get their Christmas shopping done without having to brave the elements. Thanks to the Underground City, it is possible to shop at hundreds of stores without ever going outside into the cold weather. During this time many stores and boutiques will sell unique Canadian and European items that are not sold at any other time during the year.
The Magic of Christmas in Montreal
Montreal is a great place to experience the magic of the Christmas Holidays with family and friends. You can find additional pictures of Montreal during the Christmas Holiday season on flicr
Images of Christmas Holidays in Montreal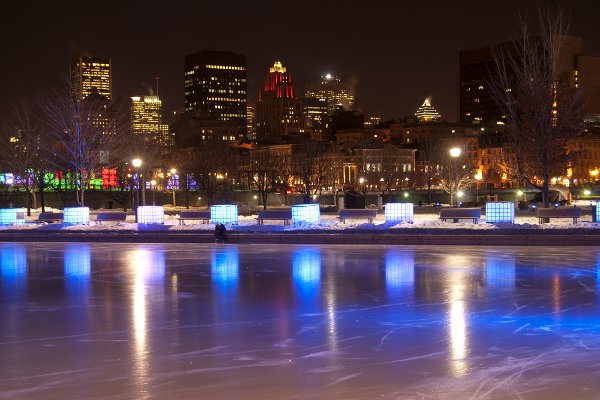 Ice skating in Old Montreal (stock photo)