La Fête Nationale du Québec is the National Holiday of the province of Québec. On this day, various events, shows and spectacles are planned in Montreal and throughout the province of Quebec. La Fête Nationale always occurs on June 24, which happens to be St. John the Baptist Day in Quebec. Festivities take place on both June 23 and June 24. It is one of Montreal's most popular holidays and it is a paid holiday in Montreal and the rest of Quebec.
A Celebration with Many Names
La Fête Nationale goes by many names. La Saint-Jean, la Fête Nationale du Québec, St. Jean Baptiste Day are only some of the names used to describe this celebration. It's a celebration of the province of Quebec and its unique history and identity. Various free activities occur during la Fête Nationale. Many neighborhoods across Montreal celebrate with parades, bonfires, fireworks, live shows and activities for kids.
Le Grand Défilé des Géants
One of the most popular parades during la Fête Nationale is Le Grand Défilé des Géants which takes place every year on Sherbrooke Street. It features gigantic structures representing Quebec's most popular historical and fictitious characters. Some of the giant figures you'll see at this event include René Lévesque and Jeanne-Mance. The giants are made of wood fiberglass and plastic. The Grand Défilé des Géants also features circus artists, acrobats musicians and other street performers.
Le Grand Spectacle
Le Grand Spectacle (The Big Show) is another popular free event during la Fête Nationale. This extravagant show features some of Quebec's best bands performing in front of large crowds of adoring fans. Each year, thousands of people attend this massive show taking place at Maisonneuve park. Millions more watch the show from the comfort of their home.
Images of La Fête nationale du Québec à Montréal
Place des Arts Venue of La Fête nationale du Québec à Montréal(fetenationale.qc.ca)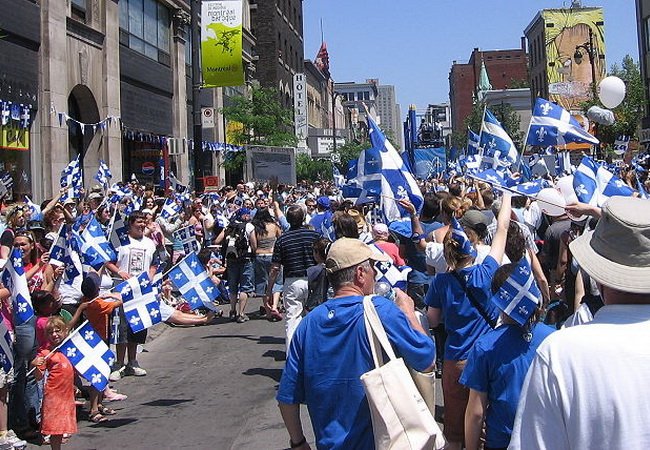 La Fête nationale du Québec à Montréal(Wikimedia)