The Montreal Igloofest is a yearly, multi-weekend outdoor rave that takes place at Quai Jacques Cartier in Montreal's Quays of the Old Port during the month of January. It is described by many as the coldest rave on the planet. This electronica extravaganza attracts many house and electronic music fans from around the world along with some of the most popular DJs.
Winter's Outdoor Rave
Igloofest is Montreal's most popular Winter outdoor rave event and features some of the best DJs on the planet. Created by the founders of Piknic Électronik, Igloofest features an impressive line-up of Canadian and International DJ's playing house and electronic music. There is also an Igloo lounge that features various types of drinks to keep the partygoers going.
The Igloo Kingdom of the Igloofest
The area where the Igloofest takes place at is known as the Igloo kingdom (Royaume des Igloos). Igoofest's Igloo kingdom features a unique audio-visual ambiance, an electrifying atmosphere, enchanting ice sculptures, a dance floor made of a bed of snow and slush, and a wacky snow suit competition. An ongoing tradition at the Igloofest is to wear fluorescent snowsuits known as "one piece". Prizes are given to the best one piece of the Igloofest.
Music at the Igloofest
The Igloofest features house, techno and trance music. You'll see party-goers dressed in full body suits, ski goggles and extra layers of clothing to keep warm. Refreshments are served on-site with the specialty being caribou, which happens to be a mix of whiskey and maple syrup. Other refreshments include hot mulled wine, liqueur-flavored coffees, ice cold beer. Each year, thousands of party-goers attend the ever-growing Igloofest.
Images of Igloofest
Montreal Igloofest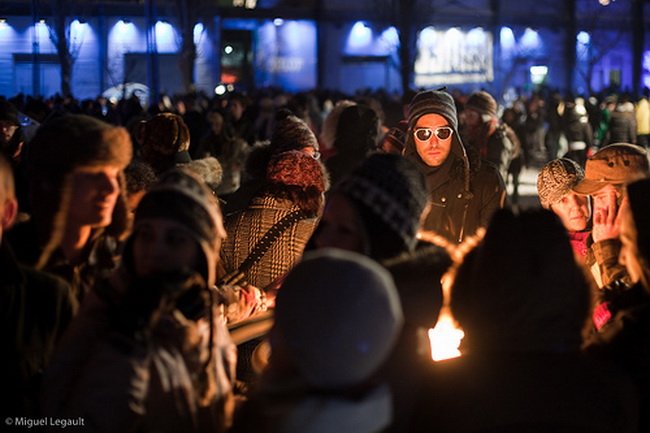 Montreal Igloofest
Montreal Igloofest