The Montreal Fashion and Design Festival (Festival Mode & Design Montreal) is a popular event that turns the streets of Montreal's downtown area into several free outdoor fashion shows. This fashion and design festival takes place on McGill College Avenue, at the heart of downtown Montreal and features hundreds of fashion labels and designers. The Montreal Fashion and Design Festival is the largest outdoor fashion and design event in North America. The festival is called MFDF for short.
A Fashion and Design Extravaganza
Attracting nearly 500,000 visitors annually since its start in 2001, this 5-day fashion festival features designs from some of Canada's most popular designers. Along with local Montreal designers, several international designers are featured as well. Originally known as the Sensation Design Festival on St-Laurent Boulevard, the festival has grown into an award-winning extravaganza of fashion and design that dominates Montreal's downtown core for several days every summer.
Montreal's Free Fashion and Design Festival
Nearly 50 fashion shows are presented every day of the festival from noon to midnight. There are also various concerts and multimedia events that take place during the festival. This includes performances from well-known DJs and musicians. The festival takes place at McGill College Avenue between Maisonneuve and Place Ville-Marie. All the outdoor fashion shows and concerts of the Montreal Fashion and Design Festival are free.
August: The Fashion New Year
In the past, this popular festival used to take place on the same weekend as the Canadian Grand Prix. However, starting in 2010, the Montreal Fashion and Design Festival has been moved to the month of August. The festival's late-summer date allows spectators to discover the latest trends in fashion and design at the same time that the collections are available in stores. Early August is, to some extent, the fashion New Year, marked by the arrival of new collections in the stores. The festival is often used as the launch point for several international clothing collections.
Images of the Montreal Fashion and Design Festival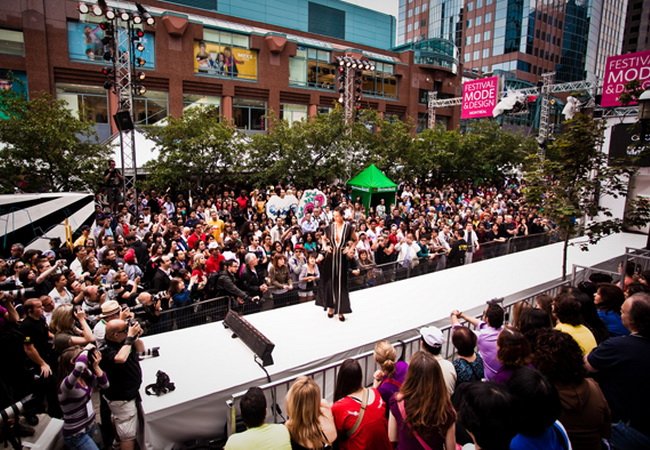 the Montreal Fashion and Design Festival (festivalmodedesign.com)
the Montreal Fashion and Design Festival (festivalmodedesign.com)
the Montreal Fashion and Design Festival (festivalmodedesign.com)