As soon as you step onto the cobbled streets of Old Montreal, you will feel like you have stepped into a time machine and are experiencing Montreal as it was centuries ago. Complete with horse-drawn carriages, old Montreal features wonderful attractions which include public squares like Place Jacques-Cartier and Place d'Armes along with the magnificent City Hall building. Old Montreal is remarkable for its architecture and its romantically old-fashioned buildings.
Old Montreal's History
Located on the shores of the St. Lawrence River, old Montreal used to be surrounded by a wall for protection from Native American tribes. Today, old Montreal is filled with cafés and restaurants along with little streets, passages and squares that send you back in time as you walk over cobblestone streets. In the 19th century, old Montreal used to be Canada's commercial and financial help. Today, Montreal's economic heart is the downtown area, which features skyscrapers and many large financial buildings. Old Montreal remains the historic heart of the city.
Old Montreal's Architecture
Old Montreal is remarkable for its architecture and its romantically old-fashioned buildings. Its mix of European and North-American colonial and modern architecture gives it a uniquely appealing charm and a style unlike any other. One of the most stunning examples of Old Montreal's architecture is the iconic Notre-Dame Basilica, a catholic church that has been around for centuries.
Old Montreal and the Quays of the Old Port
The Quays of the Old Port is the heart and soul of Old Montreal. The quays of the old port are packed with history. The first Europeans arrived through this port and it continues to play an important role in Montreal's history. It is the perfect area for outdoor activities, whether alone or with friends. The Old Port also hosts spectacular events such as the Montreal Highlights Festival and the cirque du soleil.
Things to Do in Vieux-Montréal
Day or night, there is always something to do in Vieux-Montréal! This neighborhood is surrounded by lively terraces, shows, museums, art galleries, and a wide range of activities and festivals. Many popular festivals, including the High Lights Festival and Igloofest take place around Old Montreal. Old Montreal also has some of Montreal's most famous attractions, including the Bonsecours Market, Chateau Ramezay and the Pointe-a-Calliere archaeological museum.
Old Montreal in all Seasons
Whether its summer or winter, Old Montreal is the place to be. Winter activities that take place on the Old Port include ice skating on the giant ice rink, or taking part in the popular Montreal High Lights Festival or partying it up at the Igloofest. In the summertime, Old Montreal is the place to be with various activities that range from riverboat bikes to quadcycling and rollerblading. It also happens to be one of the best areas to view the fireworks from Montreal's International Fireworks Competition.
Dining in Vieux-Montréal
Some of Montreal's best gourmet restaurants can be found in Old Montreal. These restaurants range from ultra-chic to romantic and everything in-between.
Images of the Old Port of Montreal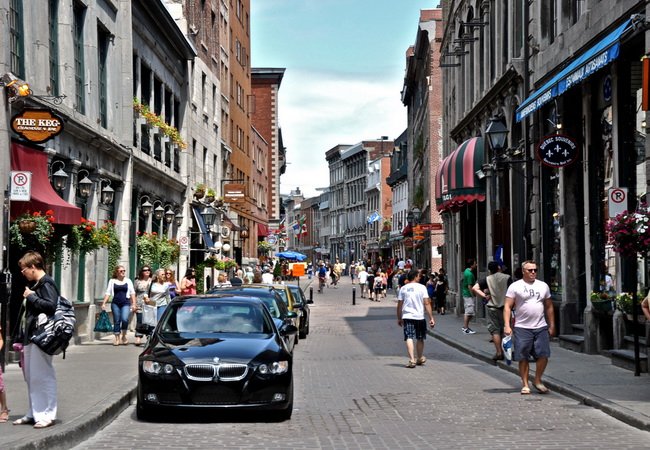 the streets of Old Montreal (flickr user Vimages)
Place Jaques Cartier (Stock Photo)
Bonsecours Market (Stock Photo)
City Hall (Stock Photo)