Montreal's Osheaga Music and Arst Festival (Osheaga Festival Musique et Arts) is a two-day music festival held each year on Île Sainte-Hélène at Parc Jean-Drapeau. This popular annual festival has become one of the most anticipated summer events in Montreal since it was first introduced in 2006. The purpose of the Osheaga festival is to showcase Montreal's most talented artists along with Internationally-known artists. The festival offers a world-class European-style festival to Canadians while showcasing Montreal's acclaimed local talent alongside some of the industry's biggest names.
Big Names at the Osheaga Festival
Year after year, the Osheaga festival offers a unique and eclectic musical lineup. Some of the biggest names in music have played at the Osheaga Festival. This includes bands like Coldplay,The Smashing Pumpkins, Amy Winehouse, M.I.A., The Killers, Jack Johnson, Ben Harper & The Innocent Criminals, The Flaming Lips, Sonic Youth, k-os, Malajube, Patrick Watson, The Smashing Pumpkins, Arctic Monkeys, Gotan Project, Bloc Party and Feist, among others.v
Osheaga in the City
Osheaga in the City is a series of concerts that occur before the actual Osheaga festival. It's a prelude to the festival that features incredible bands and DJs in some of Montreal's most popular venues. Because Osheaga in the City is not actually part of the festival, tickets for Osheaga in the city must be purchased separately.
A Wonderful Outdoor Festival
Osheaga is a festival that is praised by critics and fans alike. The festival features excellent bands in a wonderful outdoor setting that is both socially and environmentally conscious. Over the years, the Osheaga festival has attracted over 70,000 people . The festival continues to grow and attract more fans every year.
Images of the Osheaga Festival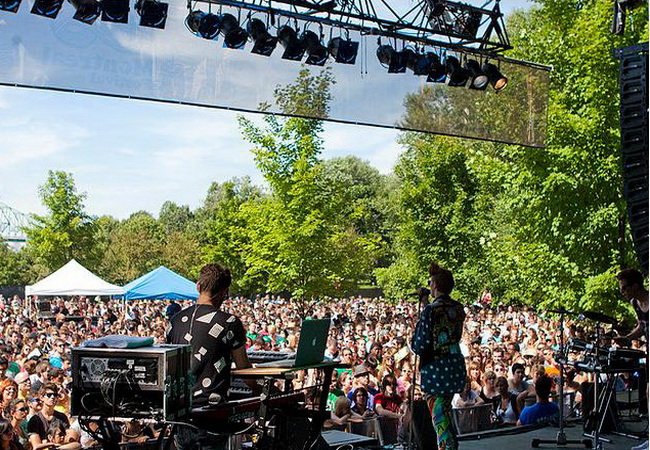 The Osheaga music festival in Montreal (osheaga.com)
The Osheaga music festival in Montreal (osheaga.com)
The Osheaga music festival in Montreal (osheaga.com)